Knowing when you need roof repair in RI is vital, as putting off this service allows damage to get worse, resulting in even costlier fixes! Roof damage also risks interior water leaks which then result in ruined drywall, wood rot, and mold growth.
While a professional inspection is the best way to spot roof damage to your home or commercial building, there are some red flags you might notice just from the street below or while maintaining your property. Note a few of those here so you know when it's time to schedule roof repair in Rhode Island.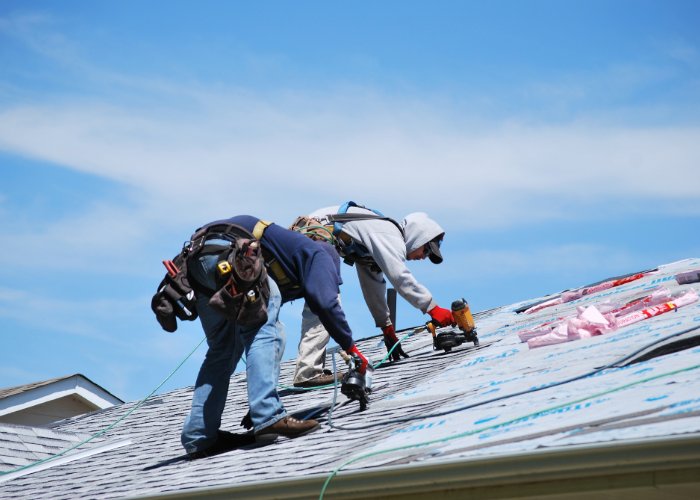 1. Schedule Rhode Island Roof Repair for Cracks and Blisters
Shingles, tiles, metal panels, and other roofing materials should lie flat against a roof; this is how those materials direct rainwater and other debris off the roof's surface. Over time, those materials might degrade and then crack, curl, blister, or otherwise look a bit "ragged." Once this happens, it's time for roof repair or a new roof installation.
2. Don't Overlook Loose Granules and Nails!
If you've ever cleaned your gutters or tended to the landscaping close to the house and noticed granules or loose nails, don't overlook or ignore these! Granules add insulation to shingles and help prevent standing water on the roof, while nails keep them in place.
As a roof ages and degrades, those granules will wear away and wash off the roof, ending up in the gutters or the ground close to the house. Those nails also indicate loose or missing shingles, and an increased risk of roof leaks. Call a Rhode Island roofing contractor if you notice these around your property.
3. Look for Bald Spots and Sagging on the Roof
Bald spots or dark areas indicate missing shingles or tiles, while sagging often means that the roof decking or even the home's framing is damaged. The sooner you schedule roof repair in RI for missing shingles and sagging areas, the better! A sagging roof can, in extreme cases, outright collapse, risking expensive repairs and injury to anyone in the vicinity, so have it fixed at the first sign of damage.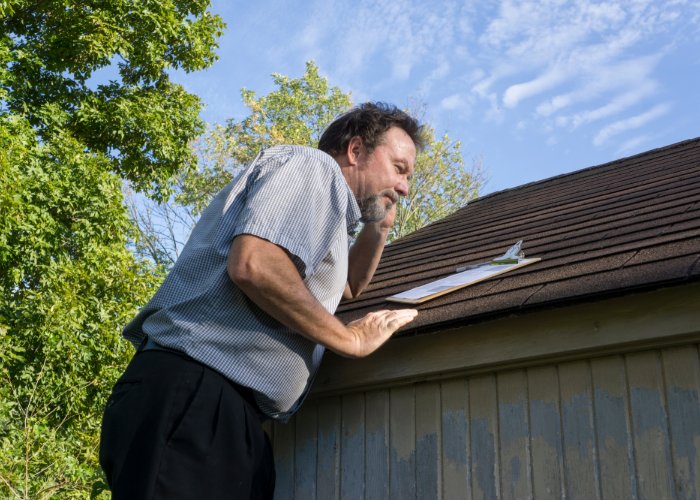 4. Check for Ceiling and Wall Cracks
Interior ceiling and wall cracks can appear for a variety of reasons, including a weak foundation, improper drywall installation, water damage, or aging plaster. However, when roof framing is weak and damaged, it might begin to shift in one direction or the other, pulling on interior ceilings and walls so that cracks then form. Don't simply patch over these but have the home inspected from top to bottom, to determine their cause and schedule needed repairs.
5. How Old Is Your Structure's Roof?
All roof materials have an expected lifespan, after which time exposure to the elements and natural degradation causes wear and damage. The more severe the local weather and the less vigilant you are in keeping the roof clean, the sooner those materials wear out and need repair or replacing!
If your structure's roof is nearing the end of its expected lifespan or has already surpassed it, schedule a roof inspection as soon as possible. Replacing the roof before it gets overly worn helps reduce the risk of cracks and resultant interior water leaks, while also keeping your home or business insulated properly.
A homeowner or commercial property owner should also note that an old, damaged roof, as well as interior wall and ceiling damage, can reduce that property's value! Investing in needed repairs or a new roof when necessary might not increase property values as much as your overall costs, but will ensure your home or commercial property doesn't lose value either.
6. Does the Roof Look Old and Outdated?
Sometimes a good power washing is all that's needed to make a structure's roof look new again, but when a roof looks old, worn, and outdated even after a good cleaning, it might be time for repairs or a new roof. Shingles and tiles can wear out over time, fading in color while getting thin and brittle. When the roof looks outdated, this can mean it's time to replace it!
A Rhode Island roofing contractor can also inspect a roof and note if it needs repairs or replacing, or if the roof is in good condition and has years of life left to it. You can then schedule needed repairs or plan your budget accordingly, knowing you won't need to face that cost for a few years.
The Rhode Island Roofers is happy to provide this short list of red flags for needed roof repair in RI to our readers. If you notice any of these along your structure's roof, give us a call! Our Rhode Island roof repair contractors ensure high-quality repairs and new roof installation, backed by a complete warranty. To find out more, give us a call today.