The best type of house siding for a Rhode Island home is an excellent way to enhance its curb appeal and even increase property value. What is the best type of siding for a house? Today's house siding options are durable and built to last, withstanding dents, dings, and cracks. Many house siding materials are also designed to be easy to clean, reducing the need for professional power washing services.
If you're having a home built or know that it's time to update the exterior walls of your current home, you might be surprised at your many options for siding materials. Your Rhode Island siding contractor might help you decide the right choice for your home, considering its style and your budget, but note some added information as well, including factors to consider when choosing the best type of house siding. These details will help ensure you're happy with your home's appearance and condition for many years to come.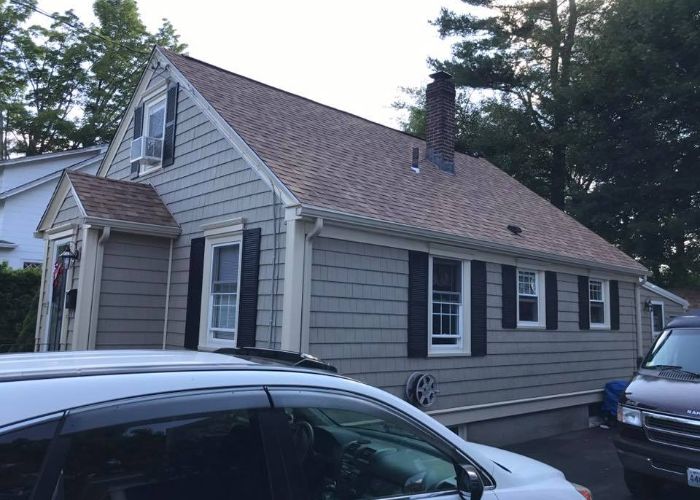 How to Choose the Best Type of House Siding for a Rhode Island Home
When choosing any new material for your home, consider long-term costs. A cheaper material might be more affordable for installation but can also mean added repair and replacement costs over the lifetime of home ownership!
While siding is meant to protect a home's framework from the elements, it's also typically what you'll notice first and foremost about your property's exterior. Note the appearance of any types of house siding and ensure you invest in something that will enhance your home's curb appeal, not detract from it!
It's also good to choose a siding material, color, and style that matches your home's overall style as well as exterior fencing, walkways, landscaping, and other features. For example, if your property has a traditional look and feel, opt for wood. Outside a more modern home, choose aluminum, vinyl, or cement fiberboard.
Why Vinyl Siding in Rhode Island Is So Popular
Vinyl siding in Rhode Island is a very popular choice and one of the best types of house siding due to its affordability, ease of maintenance, and easy installation process. Vinyl is available in a wide range of colors, with the material being tinted during the manufacturing process so its tone stays true over the years, even after exposure to harsh weather conditions.
One downside to vinyl is its plastic look and feel. In some cases, vinyl siding might even affect a home's salability if you should put that house on the real estate market. Some potential homebuyers might not appreciate the look of vinyl, decreasing your potential offers or asking price.
Also, as the material is easy to install, homeowners often assume they can manage this job on their own; however, even a small mistake in siding installation for a Rhode Island home can risk interior water leaks and other such damage. As tempting as it might be to try DIY vinyl siding installation for a  Rhode Island home, it's recommended that you always call a professional for all your home improvement projects to ensure the job gets done right and eliminate the risk of damaging your home in the process.
Consider a House with Wood Siding for Traditional Rhode Island Homes
Wood siding offers a rich, natural look that many homeowners love. Wood is one of the old house siding types and an excellent choice for traditional, Cape Cod, and cottage-style homes and for homes where you might want to tone down the look of concrete walkways or add some warmth to a plain house and property.
The biggest disadvantage of wood is the need for regular maintenance, including painting or staining and sealing. Even with regular maintenance, wood is susceptible to rodent infestation and termite attacks! However, if you have the budget for consistent wood treatment, this material is an excellent choice for adding style instantly outside your home.
Choose Fiber Cement Siding for a Rhode Island Home
Fiber cement siding is made from a mixture of cement and cellulose fibers, creating a strong, fire-resistant, lightweight material. One advantage of this type of siding is the ease of stamping and staining during manufacturing so that your new siding might resemble aluminum, wood, or another such material. Fiber is also designed and built to last, with most manufacturers offering a 20 to 50-year warranty.
It's vital to note that cement siding might encounter moisture problems over the years, and a homeowner should always work with a reputable siding contractor in Rhode Island with certified materials to avoid the risk of low-quality manufacturing. It's also recommended that you choose a factory-installed color to ensure it lasts and avoid the need for repainting over the years.
Stucco Siding: The Best Type of Siding for House - Mediterranean Homes
Stucco siding is considered the best type of house siding because it is very water resistant which is why it's often seen outside homes in the tropics and other areas with high humidity levels. Stucco is very rigid, which makes precise application vital to avoid cracks, splits, and other such damage.
If installed and maintained properly, stucco can last the lifetime of a home. It also offers a natural look that many homeowners love but is often associated with Mediterranean and tropical styles. Consider stucco carefully for traditional, modern, or craftsman-style houses, and be sure to note if your stucco home might look out of place in a neighborhood filled with brick or aluminum-clad houses!
Aluminum Siding for Rhode Island Homes
Metal siding, including aluminum and steel, is still a popular option for homes; aluminum is often preferred for its lower cost and ease of installation. Metal siding is lightweight, fire resistant, and with a natural look and feel that homeowners appreciate. Painted metal siding works with virtually any house style while also complementing modern homes.
Metal siding is also typically considered one of the best type of house siding because it's easy to recycle, making it an excellent choice for the eco-conscious homeowner who might worry about materials winding up in landfills. Some manufacturers even used reclaimed metal in their production processes, reducing the need for virgin materials.
Some homeowners report that metal siding in Rhode Island is prone to dents and dings and is somewhat loud when something hits the house, a consideration to remember if you have children who might play against the home's exterior. It's also vital that a homeowner invests in coated metal siding in Rhode Island for added resistance against peeling, fading, and corrosion.
The Rhode Island Roofers Have Your House Siding Ready to Go!
Explore all of the best types of house siding ideas offered by The Rhode Island Roofers! We start you with a free quote, and you get to decide what's best for you based on the types of house siding and cost. If you want to feel more comfortable, please take a look at our five-star reviews and positive customer feedback. We do what we say when it comes to the best types of house siding, roofing, and so much more.