How do you know when it's an emergency roof repair that's required? At any given time, roof damage can happen due to weather, falling debris, animals, or simple wear and tear. 
Some issues that arise with your roof can wait for a short period. However, when the damage results in water pouring into your home, a large number of shingles falling to the ground, or significant hail damage, then it's a roof repair emergency.
When to Call for Emergency Roof Repair
As a homeowner, you're left to decide when it's time to call a roofing contractor for emergency roof repair. If you've never dealt with it before, you might be wondering what's considered an emergency and what's not. There are several instances when you SHOULD call your roofing company to come out right away.
Water Leaks
When water starts coming into your home during any amount of rainfall, then your home is not being protected. Your roof is in place to keep your structure, foundation, belongings, and family safe from the outside elements. Water should never leak into your home, so this is one instance that is considered an emergency. Neglecting a leaky roof can lead to significant damages, mold growth, and costly repairs.
Missing Shingles
After high winds or torrential rain, your shingles can get torn off. Any place that there is a missing shingle is vulnerable. Leaving the roof structure underneath open to the outside elements can lead to further issues in a very short time, especially if the storm is still happening. Call a roof repair expert right away.
Hail Damage
Forceful hail hitting your building is a problem for more than just your roof shingles. The impact of the hail can also cause damage to the vents, gutters, downspouts, and other parts of your home. If you've experienced a significant hail storm and you're not sure, it's best to have a certified roof inspector come out and evaluate whether or not emergency roof repair is necessary.
Covering a Leaking Roof Before Emergency Roof Repair
To prepare yourself for what's to come after you schedule your emergency roof repair, here's a basic outline of what you can expect from your roofing contractor. 
First of all, you can anticipate that they will wait to show up until the storm has passed and it's safe for them to be outside. When they do arrive, roofing contractors will quickly cover the problem area with tarps or other protective material to keep it watertight until the actual roof repairs can take place. After a thorough inspection of the damages, including writing a report for your insurance company, then the roofing contractor will take the steps necessary to get your roof back to its original condition, inclusive of ordering materials and scheduling employees to do the work.
How Much Does an Emergency Roof Repair Cost?
One common reason for homeowners to avoid their much-needed emergency roof repair is because they're apprehensive about what it's going to cost. On average, these services can be completed for as little as $200 to $300. If there are more extensive damages, the price can jump from $1,000 to $3,000 or more.
The only way to know how much your emergency roof repair is going to cost is by calling around to various roofing companies. Most will give you a free estimate, and some can do so right over the phone. If you're worried about how much you're going to have to spend to make your roof system structurally sound again, get quotes from several different contractors upfront. Then you can decide what best suits your financial situation. If you're nervous about paying for your roofing services, inquire about financing options that are readily available from most respected roofing companies.
Can You Avoid Emergency Roof Repairs?
The only way to stop roof damages from occurring is by preventing them in the first place. Roof maintenance and regular inspections are one way to have confidence your roof system is ready for whatever comes in contact with it, whether it's harsh weather, pest infestation, organic material growth like mold or fungus, and more.
Inspect your roof yourself. Once or twice a year, check your roof for sagging, damaged or missing shingles, animal activity, leaks, pooling liquid, and algae growth.

Clean out your gutters. Your gutters are what move water away from your roof. Ensure there is a clear path free from leaves, sticks, animal debris, or other obstacles.

Tree trimming. Limbs from overgrown trees are your roof's worst enemy. If there are any parts of a tree resting on or touching your system, you need to move them away. Storms that bring in high winds can cause these limbs to sway around or break off, putting holes in your roof or ripping shingles off at a minimum.

Clear away debris. If you're capable, remove sticks, small limbs, leaves, and other debris regularly. It might not seem that significant looking at these materials, but they make an ideal place for water to pool and pests to nest. Hire a professional or use a telescoping tool or roof rake to brush these objects away.

Remove snow. When a foot or more of snow falls, you might think it makes your home look like a gorgeous winter backdrop. However, snow is heavy, and if it sits for too long, your roof will sag, and eventually, a collapse will occur. During heavy precipitation, monitor what is out there and rake accumulations of more than a few inches off.

Check for leaks. Flashing, joints, and seals are the most common places for water leaks. Loose or dry sealant and puncture points all make your roof system vulnerable and shouldn't be ignored.
Are There 24-Hour Emergency Roof Repair Contractors?
It's the middle of the night, and you start to see or hear water leaking into your home while there is a storm ripping around outside. There's a good chance that the water infiltration is the result of damages to your roof. Now, what are you supposed to do? The last thing you should do is go out and try and fix the problem on your own. It's dangerous, and you're not going to be able to provide your structure with the same level of protection a professional can. These companies have the proper tools and equipment to do the job quicker and more safely.
Check online by searching for "24 hour emergency roof repair near me" or with friends, but there's likely a contractor in your area that provides 24-hour emergency roof repair services. Even if they can't get to your repair right away, they can prevent more extensive damage by covering the area until the weather subsides. Don't just hire the first contractor you see, though, because not all of them give you the same level of service you're expecting. You want a roofer that is:
If you're worried that you might face emergency roof repairs at some point in your life, it's a good idea to find a contractor you trust ahead of time. Even before you're dealing with roof issues, explore who's available in your city so you know who to call when disaster strikes.
How To Find the Best Emergency Roof Repair Contractor Near You
You know what you want out of an emergency roof repair contractor, but how can you find one in your neighborhood? There are plenty of methods that can be used individually, or you can combine them for a more precise list.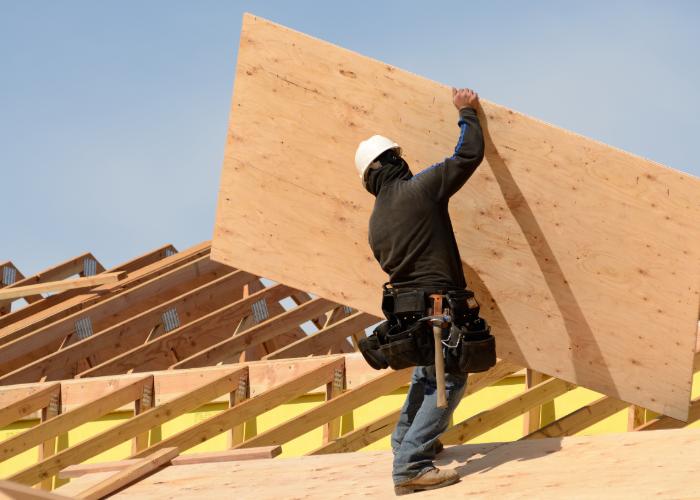 Asking Friends & Family
Personal referrals from people you know is the easiest way to find a roofing contractor. Those that you have a relationship with already aren't going to hesitate to tell you if they've had a bad experience with any particular company, like a roofer that didn't show up on time or performed poorly. As long as you trust their judgment, it can cut your search time down to a minimum.
Online Website Searches
Type in 'emergency roof repair contractors near me,' and you'll be bombarded with options in your state and the local region. It can be a bit overwhelming to go through each one, so narrow your search down to those that have established a presence online. Those are the ones that have put work into their business and providing their customers with the services they promise. Their business websites are also a great place to look for things like customer reviews, licensing, quotes, and services offered.
The Better Business Bureau
You can search for roofing contractors in your area through the BBB as well. When doing it this way, you are also gaining access to their current valued BBB rating. If they aren't rated highly, keep looking for a roofing company, that is.
Social Media Pages
Modern technologies allow you to find emergency roofing contractors in your area on various social media platforms. On their business profiles, you will have the ability to locate all kinds of information about the company, including previous customer experiences, prices, roofing services offers, and their location.
Regardless of what technique you choose to use to find an emergency roof repair contractor near you, like us at The Rhode Island Roofers,  make sure you do your own research too. The person you're going to be dealing with will be around your family and your property, and you want to be confident it's someone you trust and are comfortable with.