When you need roof replacement material in Rhode Island, it's vital that you take the time needed to shop and compare various roofing materials. While it might be tempting to opt for the cheapest roofing shingle on the market, and most shingles will last for several years before needing replacing, other materials might offer added durability and style that make them worth their higher cost.
Your roofing contractor in Rhode Island might offer personalized suggestions for your home and explain in greater detail why certain materials are recommended, but learning a bit more about various roofing materials is also helpful! You can then decide on the best roof replacement materials for your home, and know that you'll be happy with your new roof for many years to come.
What to Consider for Rhode Island Roof Replacement Material
Along with installation and replacement costs, it's also vital that a homeowner consider these questions when choosing a new roofing material for their home:
Does the material meet local fire codes and offer needed fire resistance, such as for homes in areas prone to lightning strikes?
Will the material hold up to harsh weather conditions common to Rhode Island, including heavy snowfall?
Will a new roof material complement the home's overall style and exterior wall color?
Is the roofing material eco-friendly and easy to harvest, manufacture, and recycle?
Metal for Roof Replacement in Rhode Island
Metal roofing is quickly becoming a favorite choice for homeowners, as metal is durable and weather-resistant as well as fireproof! Historic buildings the world over often have metal roofs that are centuries old, so a new metal roof on your home might even outlast the house itself! Metal sheets are also lightweight, making them an excellent option for installation over a home's current roof, saving the cost and mess of a tear-off.
On average, metal roofs are more expensive than shingles and other roof replacement materials. This makes them a costlier initial investment but their durability and longevity often makes them a better long-term choice, something to consider if you plan on staying in your home for many years or decades to come!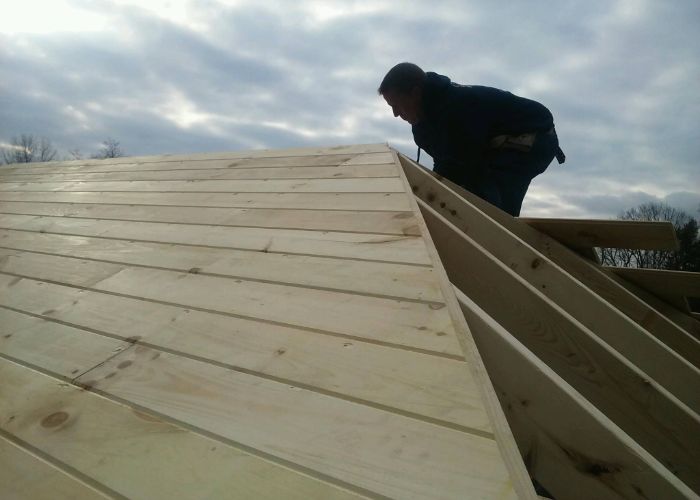 Composite Shingles for a New Roof in Rhode Island
There are many reasons why composite or asphalt shingles are still the most popular choice for a Rhode Island roof replacement! Their lower cost makes them a great fit for the budget-conscious homeowner, and replacing worn or damaged shingles is a relatively easy and affordable job.
One downside to asphalt shingles is the wide range of manufacturing processes and finished quality. It's vital to remember that low-cost shingles with a short warranty might be cheaper to install but might cost you even more money over the lifetime of homeownership, as low-cost often means low-quality! Lower quality shingles are prone to splitting, crumbling, cracking, and other such damage, resulting in more frequent repairs and roof replacement.
Clay Tile Roofing in Rhode Island
Clay tile roofing is popular in tropical areas and for beach homes, as water-resistant clay resists mold and algae growth. Baked clay tiles also offer an attractive, Mediterranean-style appearance, enhancing a home's curb appeal in an instant.
While typically costlier than most other roofing material options, clay is durable and long-lasting. Historic homes and buildings often boast clay roofs that are more than a century old! If you want to invest in a durable roof for a home you plan on keeping for decades and potentially even handing down to the next generation, consider clay for a roof replacement in Rhode Island.
Concrete Roofing is More Attractive Than You Think!
Concrete roofing might sound dull and downright industrial, but don't confuse a concrete roof appearance with a driveway or sidewalk! One advantage to concrete is that it can be stained or painted virtually any color, providing an attractive finish. Concrete is also easy to stamp and shape, so concrete roof tiles might easily resemble clay, asphalt, or another material.
Concrete roofing is also lightweight and fire-resistant, an excellent choice for homes prone to lightning strikes, brushfires, and the like. The material also resists mold, moss, mildew, and algae. Concrete tiles are also relatively inexpensive when compared to other roofing materials but note that not all roofing contractors work with them or find them readily available in your area. Consider your needs for eventual roof replacement in Rhode Island and the ease and convenience of needed repairs when deciding on concrete tiles.
Slate Shingle Roof Replacement Material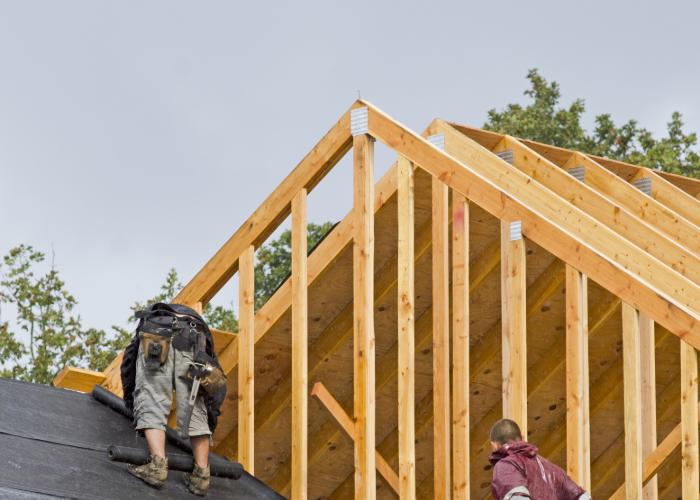 Slate shingles are thin sheets of natural stone, offering a natural, rustic look that many homeowners love. Slate is tough and durable; some historic homes boast slate roofs that are well over a century old! Slate is also easier to harvest than other natural materials, as thin sheets of this stone tend to cleave or shave themselves off naturally.
While slate offers a beautiful look for residential roofing, not all roofing contractors in Rhode Island work with slate. The material is also heavy and typically more expensive than other roofing choices, but keep in mind that a slate roof might be the last roof you ever purchase for your home!
Should You Choose Plastic Roof Replacement Materials?
Plastic polymer roofs might resemble metal, slate, or another material, for far less cost. From the street, you might not even be able to tell the difference between plastic and the real thing! Plastic polymer shingles are also affordable and lightweight; since they also reflect energy rather than absorb it, they help insulate your home throughout the year.
One consideration regarding plastic polymer is that the material is built to last, which makes recycling old shingles quite difficult. If you're very eco-conscious, you might ensure you choose plastic shingles manufactured with recycled or reclaimed materials and find a recycling facility willing to take old shingles when your home's roof needs repairs or replacement.
Once you've considered all these details regarding your Rhode Island types of roof materials, discuss your choices with your preferred roofing company and contractor and go over your roofing material checklist with a pro. He or she can help you choose the best materials and ensure that choice fits your home and budget and provides a durable, attractive roof that you'll love for many years to come!