When it's time to do a roof replacement, many are considering metal over the more traditional shingles. If you're thinking about it yourself, you likely want to know the metal roof cost.
The metal roof cost average in 2014 was reported as $12,236. The lowest price point homeowners stated paying was $10,375, with the highest reaching $14,075.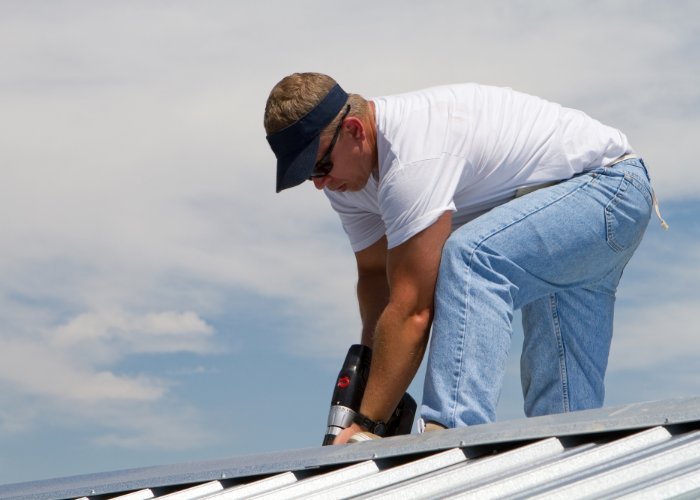 Calculating Your Metal Roof Cost
In order to accurately calculate your own metal roof cost, there are a few different factors to include in your formula. First of all, you need to find out what the square foot area of your roof to be covered is. This is something that you can hire a roofing company near you to do if you're not sure.
After you have that information, you can multiply it by the cost of the materials that you're going to require. There are several different styles out there from lower quality products costing around $6.50 square foot, and higher-grade metal roof sheets can reach $14 per square foot, both with roof installation labor charges included.
To simplify the calculation and provide you with a starting point, assume that you're going to pay $10 per square foot of metal roof installation. If your home is 1,600 square feet, you'll need 16 squares of roofing material, as it's referred to in the industry. Your final metal roof cost will be $16,000.
Will a Metal Roof Cost Less than Shingles?
Asphalt shingles are the traditional way to do roof installations and have been for many years. Most homeowners choose this option because it's so commonplace, and it's cheaper. The pitch, slope, and size of the roof play a factor, but the average for asphalt roofing shingles is $1.50 to $5.50 per square foot, including roof installation services.
An asphalt roof with the same 16 squares using the cheapest asphalt shingles would cost $2,400 with the highest quality reaching $8,800. 
The metal roof cost is more, but the durability is much higher. You won't be paying for a replacement metal roof, maintenance, or repairs for up to 70 years. Asphalt roof installations generally will require at least some minor repairs or maintenance within the first ten years.
Does the Metal Roof Cost Change When Installed Over Shingles?
One of the benefits of metal roof installations is that they can be installed over existing shingles. That means that you won't have to pay for the roof tear-off service. You could potentially save between $100 and $150 per square of single shingles when choosing metal roofing for your next roof replacement.
Not only are you saving money on the tear-off required with most other roofing system types, but you're also helping to keep waste out of the landfills. On average, there are 11 million tons of asphalt waste products generated each year. By leaving the materials on your home and picking metal roofing, you are freeing up much-needed space and helping to preserve the environment.
Are Metal Roof Repairs Expensive?
 It's already been discussed that metal roof repairs aren't required as frequently as what other materials necessitate. Because of the durability of the product, the typical damages that occur from wear and tear, weather conditions, organic material growth, and other issues are fewer. However, from time to time, there are some minor metal roof repairs that your preferred roofing inspector might discover. 
Some of the most common issues that you'll see after a metal roof installation include:
Roof leaks

Blow offs

Tears and punctures

Ponding water
In most environments, you can have your metal roof inspected at intervals of five years. When your roofing contractor comes out, they will likely charge you between $200 and $600 for the repairs required, depending on how severe they are. If you want to prevent these repair costs, you can have your metal roof sealed for an additional layer of protection. The average price for sealing a metal roof is less than $1000 in most areas, depending on the kind of sealant used, the size, and the condition that the roof is currently in.
How to Tell if Metal Roofing is the Best Option
When your roofing contractor gives you the option for metal roofing installation, especially if you're already settled on asphalt shingles, it can leave you wondering if it is the better alternative. While metal roofing is an excellent choice for most, there are several reasons why you might want to make the switch going beyond the recommendation of a professional.
You don't want to worry about your roof for the rest of your life. These are indeed more expensive, but with a life expectancy of 50 years, you won't' have to deal with a roof replacement every 15 or 20 years.
You want the best protection possible. Metal roofs are the only way to guarantee resistance to the outside elements keeping yourself, your family, your structure, and your belongings safe.
You're looking for the highest return on your investment. Metal roofs increase property value anywhere between 1 and 6%. It is ideal for attracting potential homebuyers in the future and lowering insurance premiums.
You live in a region with harsh weather conditions. Metal roofs are designed to withstand high winds, significant snow or rainfall, hurricanes, and tornados.
You want a unique or vivid color. Metal roofs are attractive to design experts because you can get one in virtually any color imagined, and the paint used is resistant to fading, peeling, chipping, blistering, or cracking.
You're looking for something eco-friendly. Metal roofing is recyclable and made from recyclable materials.
You want to keep maintenance to a minimum. Unlike asphalt roofing materials that should be inspected every three years, your metal roof will require inspection only every five. Your upkeep is limited to keeping branches, leaves, and other debris away from the system and gutters once or twice a year.
You must do your research prior to deciding whether or not a metal roof is really what your home needs to stay structurally sound. Make sure you investigate all aspects, including what suits your personal preferences and your financial situation.
What Other Types of Roofing Options Are There?
Before you sign a contract for new roof installation or roof replacement in your area, you should be aware of what all of your options are. There are a plethora of materials available in the roofing industry, and you shouldn't focus on only one when doing a home improvement project of this capacity. Take a look at the many different roofing systems, including the pros and cons of each before making your ultimate decision.
Asphalt Shingles
Pros: Simple installation, universal for use on most building types, fire-resistant, easy repairs, color options, reasonably priced
Cons: Shorter life expectancy (15 to 30 years), high maintenance, not environmentally friendly
Wood Shingles
Pros: Longer life expectancy, repairs and replacements are easy, higher insulation properties, natural appearance
Cons: Harder to install, flammable, not as durable, high maintenance
Metal
Pros: Installation over existing roof producing less waste, lighter weight, fire-resistant, durable, low maintenance, energy-efficient, limitless color options, eco-friendly
Cons: More expensive upfront costs, complicated installation process, may need to be repainted
Clay
Pros: Low maintenance, fire-resistant, several color options, unique appearance, longer lifespan
Cons: Complicated installation, heavy, fading, tiles breaking, cost
Slate
Pros: Extremely long life expectancy, low maintenance, fire resistance, appearance
Cons: Heavy, more expensive
Concrete
Pros: Durable, low maintenance, colors and style selection, fire-resistant
Cons: Cost
Your first step to having your new roof installed is calling around to roofing companies in your area. Many will offer to come and do a free inspection on your existing roof, and then they will provide you with a list of options, including roof installations of different material types. You should do your analysis ahead of time, so you know what is standard and what to expect. These professional roofing companies are also a great resource to use to clear up any areas in roofing supplies you haven't figured out on your own.
Finding A Metal Roof Installation Company
Now that you know what a metal roof costs, along with all the benefits and disadvantages that go along with choosing another roofing system type, you've likely determined what kind of roof you want. It's possible to go out and buy the materials to do a roof installation on your own, and you might even save a little money in the meantime.
It's strongly recommended by all experts in the roofing industry that you never try and do any kind of roof repair, roof replacement, or roof installation on your own. Unless you've had experience and training in the field of roofing, you likely aren't going to be able to complete the processes within the guidelines outlined by the roofing industry. You will also be losing out on manufacturer warranties as they are often voided without professional installation.
Before you hire the first roofing company that you come across in your search, you should be aware of what to look for. Realistically, anyone can offer you roofing services. That's what you have to be cautious of. Just because they say they can do it, doesn't mean they can complete your service the way it's meant to be done. Take a look at some of the most critical elements to consider before hiring a roofing company for your metal roof installation, or a roofing service of any kind.
Years of Experience
A reputable roofing company is going to be one that's been in business for several years. Ideally, you want to pick one that's been working on roofing systems for at least five years or longer. By establishing a work record, the contractors have proved that they provide their customers with the level of service expected.
Research Licensing and Insurance
Any roofing contractor that you hire should be appropriately licensed and insured, and that includes protection for everyone that will be working on your property. Without proper coverage, you could find that you're liable in the event something goes wrong, like injury or damaged materials. The contractor you're looking at should be able to show you they have at least $1 million in general liability coverage along with proper state licensing.
Find Out if There Are Warranties Offered
You are going to come across roofing contractors that don't offer warranties for the services they provide. That's a red flag because it means that they don't stand behind the work they do. If they're not confident in their abilities, you shouldn't be either. The best roofing contractors will offer coverage for both the products used and the labor they provide. Some will even make extended warranties available.
Ask for Referrals
One of the most efficient ways to find a roofing contractor near you is by asking those that have had their roof worked on lately. People are going to be more than willing to share both good and experiences with you. If you don't know anyone that has had a roof installed recently, check social media pages and other websites for customer reviews that are readily available if it's a well-established company.
Check for Manufacturer Designations
There are specific ways that roofing contractors can stand out above others doing the same kind of work, and those are called manufacturer designations. These certifications show that roofers have gone through additional training and passed minimum requirements to be factory-certified. Only 2% of roofers are GAF Master Elite certified, and that is the seal you want to watch for.
Inquire About Safety Protocols
Even if you've found someone that's licensed and insured, you want to know that they follow all the proper local laws and guidelines. Ask your contractor about any safety training they've completed like what's available through the Center for the Advancement of Roofing Excellence organization.
Explore the Better Business Bureau Website
Don't forget about checking the Better Business Bureau website while doing your research. This is an excellent resource that homeowners and other citizens can utilize to report encounters with any given contractor in a wide array of industries. If the roofing company that you're talking about doesn't have satisfactory ratings with the BBB, it's likely not the right choice. When they aren't on the BBB at all, it's also an indicator that you should keep searching for someone else.
Before you hire anyone to do your roof repair, replacement, or installation, make certain that they aren't a storm chaser just looking to make a quick buck. As long as you do your due diligence, you'll end up with the structurally sound property you're trying to create for yourself and your family.